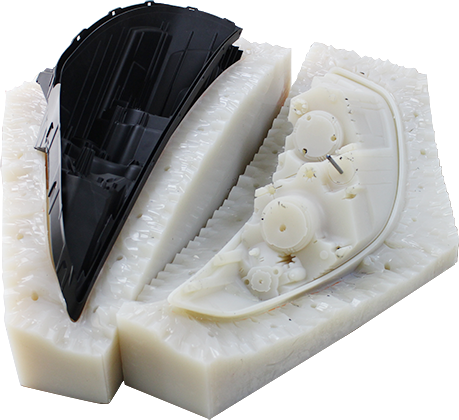 Soft plastic and hard plastic are now mainly used in secondary molding molds and two-color molds. In particular, the secondary molding mold (overmolded mold, mainly soft rubber coated hard rubber), in which soft rubber is commonly used in artificial rubber, TPU, TPR, TPE and other rubber materials, and hard rubber can be ABS, PC, etc. The difference between the two-color mold and the two-color mold in the mold structure and manufacturing:
A. Two-color mold: Two plastic materials are injected on the same injection molding machine, and the mold is molded twice, but the product is only ejected once. Generally, this kind of molding process is also called two-component injection molding, which is usually completed by a set of molds and requires a special two-color injection molding machine. B. Overmolding mold (secondary molding): Two plastic materials are not necessarily injected on the same injection molding machine, but are molded in two parts; after the product is taken out from one set of molds, it is put into another set of molds for processing The second injection molding. Therefore, this molding process is usually completed by two sets of molds, without the need for a special two-color injection molding machine.
Overmolding mold (overmolding mold) and two-color mold: In the design of the second molding mold, attention should be paid to the positioning of the hard rubber parts, and reliable sealing must be achieved and there must be reverse inclined holes on the rubber parts to prevent the deformation of the rubber. The two-color mold process can make the appearance of the product more beautiful, easy to change the color without spraying, but it is expensive and requires high technical requirements. Pay attention to whether the plastic flow will impulse the first molded product and deform the glue position during the second injection. In 99% of cases, the hard rubber part of the injection product is injected first, and then the soft rubber part of the injection product. Because the soft glue is easy to deform. In order to make the two plastics "sticky" tighter, the "stickiness" between the materials and the roughness of the mold surface must be considered. Two-shot injection molding has special TPU; and the smoother the mold surface, the tighter they "stick".